CalPortland's Oro Grande Plant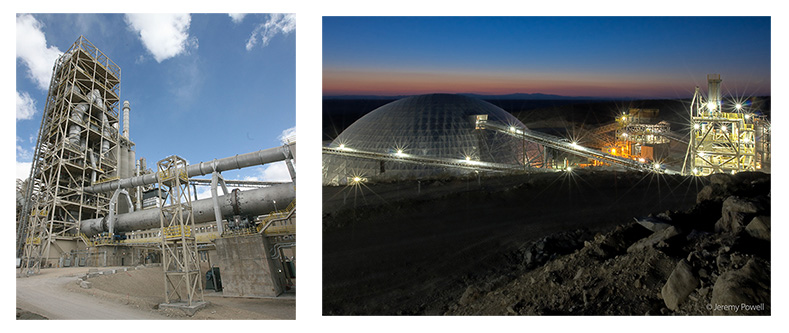 f
f
f
The Oro Grande Cement Plant produces 2.3 million tons of cement annually. The plant was originally constructed in 1907 on the site of a former gold mine (Oro Grande means "Big Gold") and lime operation. The plant operated until 1928 when the United States entered the Great Depression. The plant remained dormant until 1942 when it was reopened, modernized, and began producing cement for the war effort. Over the next few years, outdated production processes were replaced with modernized technology which included five kilns, a powerhouse that utilized waste heat for steam generation, new silos and grinding mills. Additional technology and modernization occurred in 1959 when two new kilns were placed into service. The plant operated with much of this same equipment until the modernization and commissioning in 2008.
The Oro Grande cement plant currently produces approximately twice the volume of cement with a smaller environmental footprint than prior to the 2008 modernization. Improvements in the clinker production process in the modernized plant means one kiln instead of seven, while producing approximately twice the volume of clinker without using additional fuel. The most recent improvements occurred in 2019 with the addition of a second finish mill and efficient distribution system were built at the plant.
Some highlights of the Oro Grande plant:
The property spans 6600 acres including a quarry with four active pits
Polysius "Polycom" hydraulic roll press is a High Pressure Grinding Roll for the -3"product stored in the 60,000 ton limestone dome. The Polycom produces in excess of 475 tons per hour with two 2250 hp drive motors. New studded rolls were added to the roll press in 2018.
Type II Clinker is stored in an 85,000 ton Alumidome segregated by five withdrawal points for blending purposes.
5 stage preheater
6,600 TPD Clinker production
Two Finish Mills- 200 TPH Polysius 2 Compartment Mill–13,400 HP
Produce Type I/II/V, Plastic, Type IL (ADVANCEMENT LT) and Type III cements
Primary cement loadout constructed in 2019 can load 27 ton powder trucks in ~ 3 minutes.
Total of four loadout stations with six truck scales and two rail loadout stations with three scales
In 2020,  the plant added a Compressed Natural Gas (CNG) powered bulk hauler truck fleet, which reduces greenhouse gas (GHG) and smog-causing emissions. The 24 new "Near-Zero Emission" bulk hauler trucks are fueled with RedeemTM by Clean Energy® at a new private fueling hub which is also located at the cement plant. Developed by OZINGA® Energy, the fueling hub consists of 24 slow fill stations and one fast-fill station.
Celebrating 130 years, CalPortland is a major producer of cement, ready mixed concrete, aggregates, concrete products and asphalt in the western United States and Canada. Founded in 1891 with the principle of providing unsurpassed quality, CalPortland remains a leader in the industry through its commitment to quality, safety, customer service, technical excellence and environmental leadership.